UIL CONCERT/SIGHTREADING CONTEST

This is the staple competition for UIL, occurring every year in the spring in all regions of the state. Bands prepare a concert program of three pieces chosen from the Prescribed Music List and perform for a panel of three judges who rate the bands with one of five ratings. Again, the comparison is only with a standard of excellence, not with other bands in the contest. Immediately following the concert, bands move to another room to sightread a piece of music chosen by the band's classification. The music for sightreading is composed specifically for the contest and addresses certain fundamentals that are aligned with the curriculum for each classification. This is the musical equivalent of a statewide achievement test for Band.
UIL Concert/Sightreading Information
2016 UIL C&SR Contest
Dates: April 12-14, 20156

Site: Earl Warren H.S.
Entry Fee: $350 *Please note of fee change.
Judges:
Andy Post, Jeff Dubose, Bill Miller, David Dunham, ___, ___
2016 UIL Performance Schedule: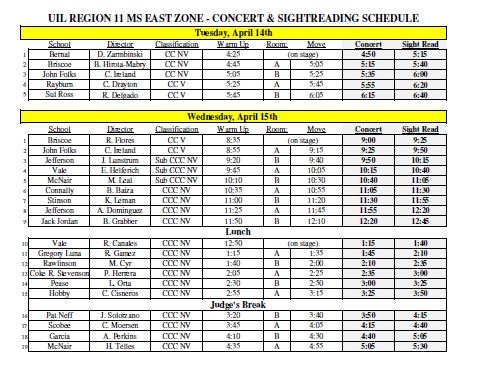 2016 UIL Region 11 Director's Packet
: (click on image)
Draw Order - August 2014
Disclaimer: The UIL Executive Secretary reserves the right to maneuver the band performance draw order due to conflicts, special circumstances or any reason they deem appropriate. Please note that CC and CCC bands are combined on this list.
TBA
New instrumental "Sight-Reading Score Study period" Information
Admittance into Sightreading Room Policy
Contest Performance order will be determined at the August Meeting. If you cannot attend the August, please send a proxy. A performance time will be assigned to you if you fail to attend the meeting.